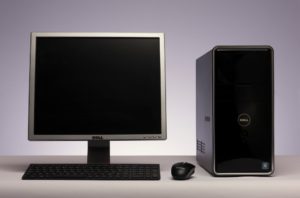 We are an environmentally friendly charity and all the PCs and laptops that we supply or sell are donated by individuals or organisations when they upgrade. Because we believe that our clients should be provided with high quality equipment, we can only take donations of laptops and desktop computers that have
quad-core
,
i3
,
i5
or
i7
processors.  If you aren't sure what kind of processor you have, please just give us a call or send us an email, and we'll be happy to tell you if your machine is suitable for donation.  We are happy to accept tablets, eBook readers and notebook computers as well. We accept donated computers from individuals, educational establishments and companies.  If you have equipment which is surplus to your needs, please get in touch: email:
admin@passitoncomputers.co.uk
phone: 07795 979364. At the moment, until we find new permanent premises, we are hoping to collect equipment donations regularly from donors.  Please feel free to let us know if you have any equipment that you would like to donate.  Thank you so much – your donated computers can be life-changing for our disabled clients!
Data Security
Pass IT On uses data shredding software to wipe hard drives of all data. We use HDShredder 4 Professional Edition which meets the HMG IS5 Enhanced security standards set by the British Government. If a hard drive is faulty and cannot be wiped, it is physically destroyed before being sent for recycling. Any identifying labels are removed before the equipment is passed on, however we are unable to delete ultra violet marks.
WEEE [Waste Electronic and Electrical Equipment] Regulations
In accordance with European legislation, Pass IT On is registered with SEPA [Scottish Environmental Protection Agency] for the repair and/or refurbishment of WEEE.
Electrical Safety
Before donated equipment is passed on, it is PAT tested for electrical safety.
NB:
By donating equipment, you are confirming that you have read our
IT Donor Policy
(opens in a new window).
Currently we are looking for:
laptops and PC base units with a quad core processor or faster
Apple Macs up to 7 years old
19″ or larger flat screen monitors*
speakers*
digital cameras* – many of our clients are keen to take up digital photography.  If you are disposing of older digital cameras, we'd be very happy to pass them on
*unfortunately we can only accept these items if they are in full working order as it's not possible for us to repair them. 
We are no longer able to take printers or ink cartridges
.
Other Computer Re-Use / Recycling Options
If your equipment doesn't meet our minimum requirements, we suggest you try the following options:
Reusing IT
Reusing IT provides high quality, professionally refurbished computers for reuse by families on low income and by overseas organisations working in education, health and agriculture.
www.reusingit.org
Give it away
You can offer to give away unwanted goods on these websites:
Recycling
Private individuals
can take broken electrical equipment to their local Community Recycling Centre to be recycled. Check your local council website for more information.
Organisations
have to comply with the Waste Electrical and Electronic Equipment [WEEE] Directive. You can find out more by reading the
Disposal Guide for Businesses
from the Scottish Environmental Protection Agency.