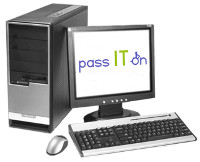 If you (or your company / organisation) are interested in buying a low-cost refurbished computer, just get in touch to discuss what you are looking for.
E-mail admin@passitoncomputers.co.uk  or call us on 0131 476 1645.
All the equipment is PAT tested for electrical safety before being sold, and all base units and monitors have a 30 day money back guarantee.
Remember, anyone can buy a computer from us – you do not have to have a disability.  The funds we raise go directly back into our work supplying adapted computers free to disabled people in Edinburgh.  Purchased computers can only be collected from our workshop in Edinburgh – we aren't able to offer a delivery service.
Typical prices
Hardware
Base unit = £50 (quad core processor, 2 Gb RAM, minimum 160Gb HDD, optical drive/s)
19″ TFT monitor = £30
Keyboard = £3
Mouse = £3
Power cable = £2
PC systems (base unit, 19″ TFT monitor, keyboard, mouse & cables) = £75 (see below for software prices)
Software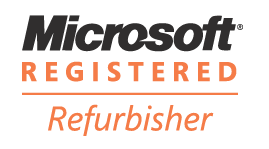 As a Microsoft Registered Refurbisher, we can install Windows 7 Professional and Office 2010 Citizenship software licenses on refurbished computers. (Please note that Office 2010 is not available for educational establishments.)
Microsoft Windows 7 Professional = £5
Microsoft Office 2010 = £5